Many people on the internet are looking for a reliable way to open MBOX files in Gmail. This article was written to provide users with answers to their questions about how to open MBOX files. Let's get a little more specific.
MBOX is a file format that is supported by numerous email clients, including Eudora, Thunderbird, Entourage, Mac Mail, and many more. The MBOX file, on the other hand, cannot be opened directly in Outlook. As a result, the only way to open MBOX files in Gmail is to use a third-party solution.
Gmail and other web-based email services have benefits. Gmail users have free access to up to 15 GB of storage space on Google's cloud platform. Apart from that, it has standard email features like contacts, calendaring events, notes, and so on. There are no direct methods for creating a backup of your Gmail mailbox when it comes to backing up Gmail data. You can, however, backup your Gmail mailbox using Google Takeout (https://takeout.google.com/settings/takeout). You can use Google Takeout to download a copy of your Gmail data in MBOX format.
How to Open MBOX Files to Gmail
Connect your Thunderbird client to your existing Gmail account before importing your Gmail backup (MBOX) file into Thunderbird. Following a successful configuration, follow the on-screen instructions to import the backup MBOX file into Thunderbird.
1. Click the Menu button in the upper right corner of the interface to launch Thunderbird.
2. Navigate to Gear button >> Add-ons.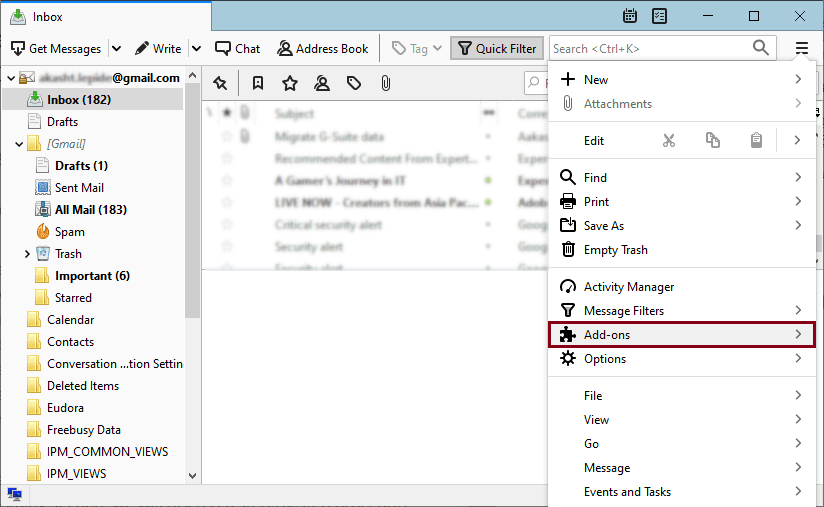 3. In the Add-ons Manager window, select ImportExportTools NG and click the Add to Thunderbird button.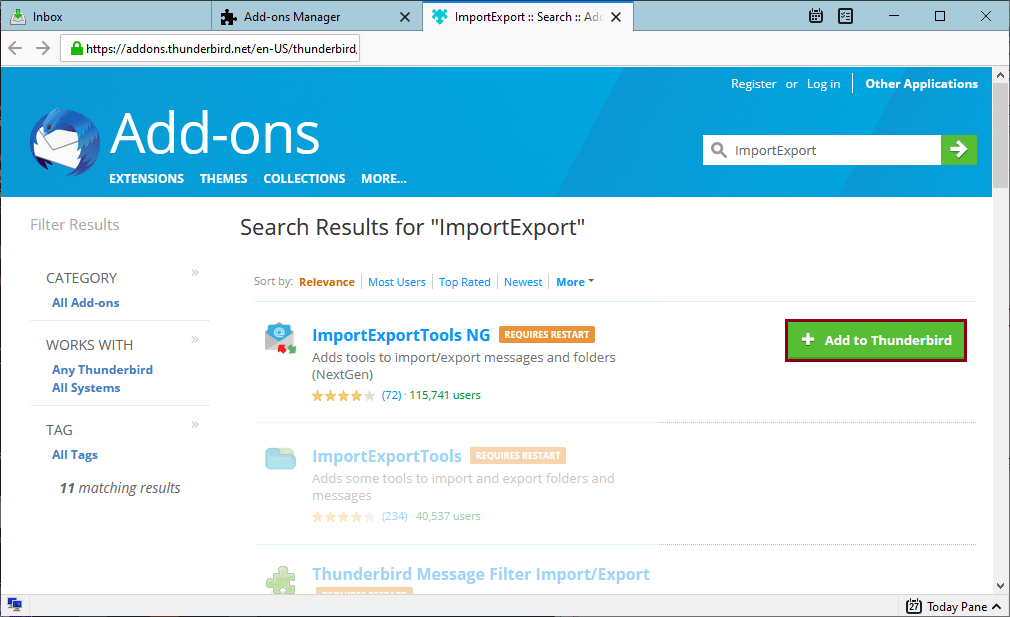 4. A pop-up window will appear requesting that you install the ImportExportTools NG add-on. After clicking the Add button, relaunch Thunderbird.
5. Return to the Thunderbird mailbox window, right-click Local Folders, and then choose ImportExportTools NG >> Import mbox file.
6. After selecting the Import directly one or more mbox files option, click OK.
7. Go to the location where you saved your Gmail backup (MBOX) file. Choose the file and click the Open button.
8. Return to the mailbox window and select the imported backup file to re-view the email contents. Select the emails you require from the Inbox folder and drag and drop them. By pressing Ctrl + A, you can also select all of the emails and move them to the desired folder.
Manual methods, on the other hand, are time-consuming and necessitate a series of sequential steps. However, to import MBOX to Gmail is much easier if you use reputable third-party software.
One such solution is MBOX Converter is a smart tool that export or migrates .mbox files to Gmail, PST, MSG, EML, Domino, GroupWise, Exchange, Google Apps, Yahoo, AOL, and other email clients.
The MBOX to PST Converter tool is extremely useful and convenient; it also supports 20 MBOX email clients, Windows, and Outlook in all of its versions. The tool allows you to preview specific files and folders before converting them, which helps you decide what should and should not be converted. This tool allows you to apply filters to source data in order to convert/migrate it to your specifications. The tool is so powerful that it can recover deleted items while maintaining data integrity.
Wrapping Thoughts
This article will help users to Open MBOX file in Gmail Account.  We developed a manual method for saving an MBOX file to Gmail using the Thunderbird client. You can also use the automated tool to transfer MBOX directly into Gmail without the need for any intermediate tools.
For More Such article: Read Here